IMPORTANT - PLEASE READ - Updated rules for returning to tennis
Fri Jun 26 2020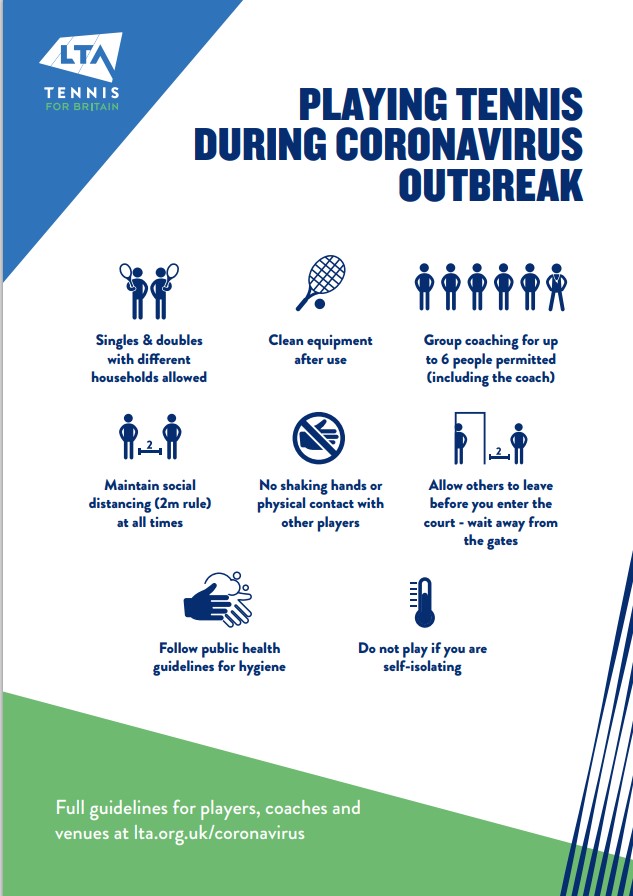 We are pleased to announce that from 6 July we will be restarting a coaching programme at the Community Sports Ground. There remain restrictions in place to adhere to the Government and LTA guidelines surrounding tennis and workplace health & safety.
Coaching will be re-introduced (max 5 players per court)
Play on outdoor courts only – acrylic and grass courts
Reduced booking slots of 45 mins for coaching sessions
Doubles will now be permitted
Reduced booking slots of 50mins for casual play remain in place
As the guidelines from the Government and national governing body evolve, we will continue to adapt our own guidelines and will keep you informed.
Booking and Pre-Arrival
All players playing at the Community Sports Ground must be registered members of the CSG
Players must have a booking via the Centre's online booking system
Once you have booked a court, please advise us of the person(s) that you are playing with.
Please e-mail communitytennis@aeltc.com and send us:
Name, e-mail address and vehicle registration of each player under your booking
IMPORTANT: For contact tracing purposes, anyone attending site should be recorded, so please submit these details. Access may be refused to people not attached to a booking
Arrival
Do not arrive too early for your booking. If early, please remain in your car until 5mins before the booking commences
Upon arrival at the gate, keep to the left, keep all car windows closed, observe the road markings and cones, and maintain social distancing. Please drive slowly.
Please show your membership card to the security officer on the gate and identify yourself – the guard will cross check your details with the booking.
When parking - do not park close to other vehicles
Please always observe social distance and remain 2m apart from each other
Please be vigilant to the signage and directions on site – there will be a one-way route around the Centre. Chaperones of junior players should spectate from the designated areas and maintain 2m social distancing. Other than supervising junior players, spectators are not permitted
Playing
On entering the courts please use the hand sanitisers available
Only the outdoor courts (Acrylic Courts 1-3) and grass courts are in use
Doubles is permitted
Each booking is for 50mins only (please finish play punctually)
Please do not share or handle equipment
Always maintain 2m distancing
When changing ends, change ends at opposite ends of the net
Please bring your own balls, towel, sun cream, and water. The water fountains are out of use
There is no access to the Communal spaces on site including changing rooms, toilets, and breakout area
When your game is complete, please follow the one-way route to the car park
On departure please use the hand sanitizers
We would also like to remind all members that should they experience any symptoms of COVID-19, they should stay away from the Centre for the required 14-day isolation period as set out by the Government. If you experience any symptoms after playing, then you should contact the Centre so that we can help with any contact tracing measures required.
We look forward to seeing you on court and hope that in the coming weeks we can relax measures further and expand the opening hours of the Centre.
Thank you.
The Community Sports Ground Team